OUR CLERGY
FR. DON HOCK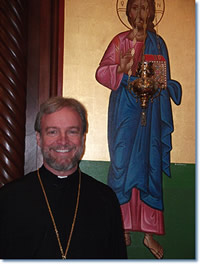 The Very Rev. Fr. Donald (Nectarios) Hock has served as Pastor of St. Mary Antiochian Orthodox Christian Church in Omaha, Nebraska since 1992. He has been an Orthodox Priest for 23 years and in ministry for over 35 years. His background and spiritual journey to Orthodoxy began as a Roman Catholic and later as an Evangelical Christian. Fr. Don & his wife Maggie began their ministry as Evangelical missionaries in western Europe and returned home from the field to begin a thirteen year journey which culminated in entering the Holy Orthodox Church in 1987 with a group of Evangelicals who were seeking the fullness of the Orthodox Faith.
Father Don holds a B.A. in Organizational Management from Concordia University and an M.Th. from Creighton University. He has also studied at St. Vladimir's Seminary and is currently considering pursuing studies in a Doctorate of Ministry program. Over the years he has served in various capacities in the Antiochian Archdiocese and the Diocese of Wichita, including Spiritual Advisor for the Department of Youth Ministry and the Fellowship of St. John the Divine; the Diocesan Presbyter's Council, and currently as Dean of the Great Plains Deanery in the Wichita Diocese. He has authored articles for the Word and Again magazines and the Orthodox Study Bible project, and has prepared catechism lessons for use throughout the Archdiocese. In October, 2010, Fr. Don experienced the glorious blessing of travelling to India with OCMC as a missionary teaching catechetical seminars to the Orthodox faithful and other seekers there.
Father and his wife Kh. Maggie have been married for 38 years and have served Christ together throughout their married life. They have five children (one reposed in Christ) and six grandchildren.
KH. MAGGIE HOCK
In her 38 years of marraige to Fr. Don, Khouriya Maggie has been active in the minsitry with him, which has continued in her journey with the Orthdox Christian Church. She is Director of the Department of Marriage & Parish Family Ministries for the Antiochian Orthodox Christian Archdiocese of North America. In addition, she is a fully licensed and credentialed psychotherapist and mediator and a marriage and parenting expert.